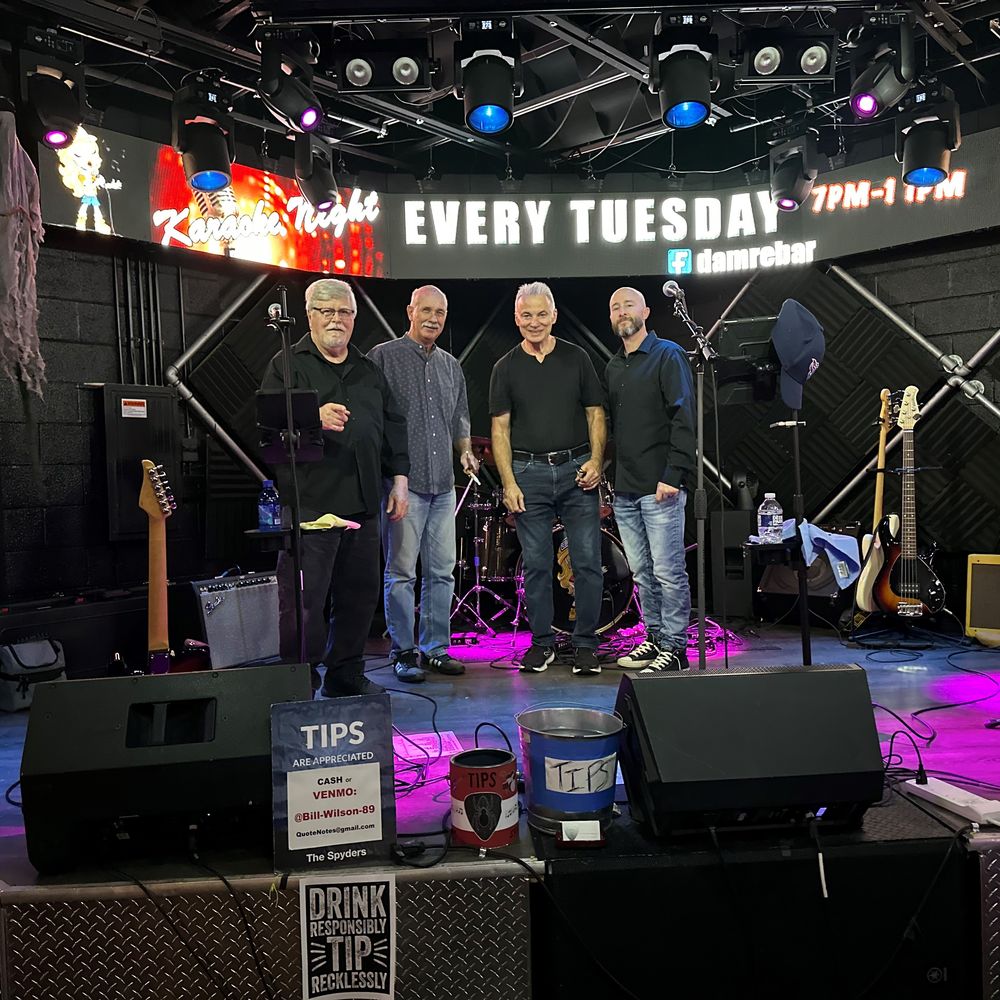 The Spyders Band
Classic rock covers, originals, and a little country
The Spyders are a Nashville, Tennessee area based band that plays both covers and originals, including classic rock, a little country/southern rock and some blues. The band has played regularly for over four years across middle Tennessee and southern Kentucky, including repeat gigs at Kimbro's Legendary Pickin' Parlor in Franklin, Fozzy's in Spring Hill, the Streets of Indian Lake Summer Concert Series, Middle Tennessee (Portland) Strawberry Festival, Franklin/Simpson County Kentucky Annual 4th of July Festival, as well as over 100 gigs at public venues and private events.
With a repertoire of over 150 cover songs, artists we cover include Tom Petty, The Beatles, The Stones, The Doors, Billy Idol, R.E.M., Modern English, The Stray Cats, Lynyrd Skynyrd, Elvis, Cheap Trick, The Ramones, The Beastie Boys, Crosby, Stills, & Nash, Neil Young, The Eagles, Eric Clapton and Cream, Jimi Hendrix, Grand Funk Railroad, Green Day, The Foo Fighters, Marshall Tucker Band, Allman Brothers, Free, Georgia Satellites, Bob Seger, country artists such as Chris Stapleton, Johnny Cash, Dwight Yoakam, Merle Haggard, Waylon Jennings, Keith Urban, and the list goes on.
But what we are most proud of is our original songs (now numbering a dozen and growing), including one song so far that has received radio airplay as far away as Phoenix. Click the Play button at the bottom of our web site to listen to that radio broadcast.
Our set lists are tailored for each venue. We do not play exactly the same set lists on repeat visits to venues and we listen carefully to venue staff and management suggestions based on their knowledge of their regular patrons.
We also have our own following of regular attendees, Spyder Nation, including hundreds of Facebook followers. We engage the audience and do our best to promote food and drink at the venue and encourage repeat business.
For bookings, please visit our Contact page.

The Spyders are....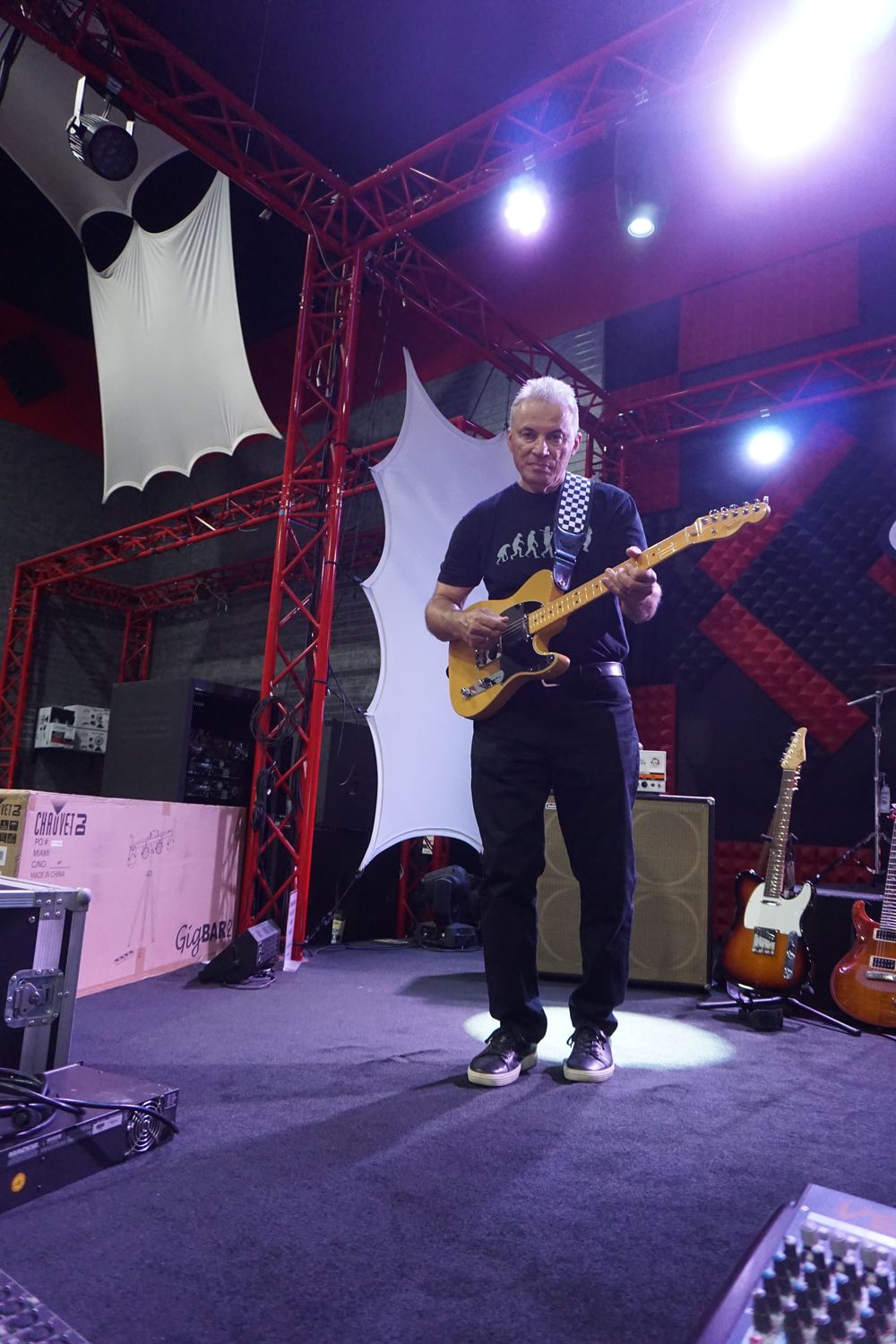 John Karras
Lead singer, guitar, harmonica
John has been playing guitar, singing, and writing and performing songs for 50 years. He is a self-taught musician. In the late '70s, he played in the Chicago-based band "ED," opening for national acts such as Adrian Belew. In the early '80s, his "Spyders" band performed throughout central Florida.
He has played guitar on national commercials (e.g., Hyundai) and on the "People of Walmart" video which has generated over 10 million views. In 2018, he resurrected "The Spyders" band name when he joined forces with guitarist Bill Wilson.
Favorite Artists/Bands: Beatles, Neil Young, Crazy Horse, Doors, Kinks, Alice Cooper, Sex Pistols, Ramones, Joe Walsh, Jimi Hendrix, The Pretenders, Alanis Morrisette, Tom Petty, Johnny Cash, and many more.
Favorite Instrument: Fender Stratocaster with some bite.
Why He Plays Music: "It's in my soul and I have to let it out."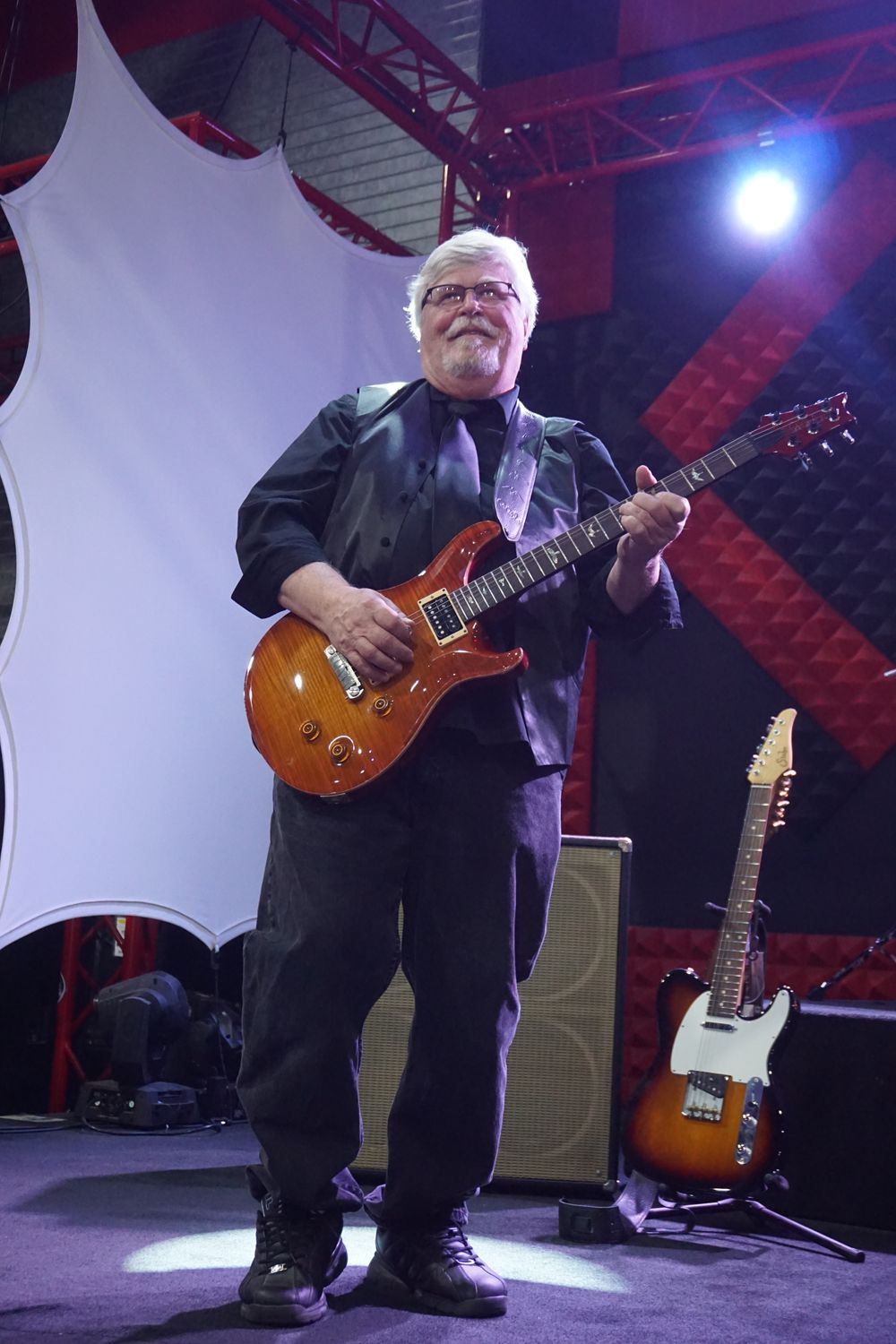 Bill Wilson
Lead guitar, vocals
Bill was the lead singer for the Chicago area band Drippo & The Gumdrops in the early '70s. One of his claims to fame at that time was performing with the group Styx (long story...ask him about it a gig :-).
He began to study guitar in the '90s but career and family changes caused him to take a hiatus until 2016 when he co-founded the band The Old Dogs which morphed into the band Slingshot in 2017 when John Karras joined the band, and ultimately into The Spyders.
He has honed his craft by attending multiple intensive guitar workshops, studying with artists that include Gary Hoey, David Grissom, and Matt Schofield and participating in clinics with legendary guitarists such as Eric Johnson, Brent Mason, Andy Timmons, Andy Wood, Greg Koch, Mark Lettieri, and many others.
Favorite Guitarists: Gary Moore, Mark Farner, Leslie West, David Gilmore, BB King, Eric Johnson, Steve Morse, Andy Wood, Andy Timmons, Matteo Mancuso, and others.
Favorite Artists/Bands: Gary Moore, Grand Funk Railroad, James Gang, Beatles, Moody Blues, Pink Cream 69, Goose, Robert Jon & The Wreck, and anyone whose last name is King or first name is Albert.
Favorite Instruments: 2006 Suhr Classic Tele and 1997 PRS Cu22 10 Top through my Gearbox dual overdrive and Halo dual delay pedals.
Why He Plays Music: "It's the most fulfilling way to express one's creativity. It's all about the groove and the pocket."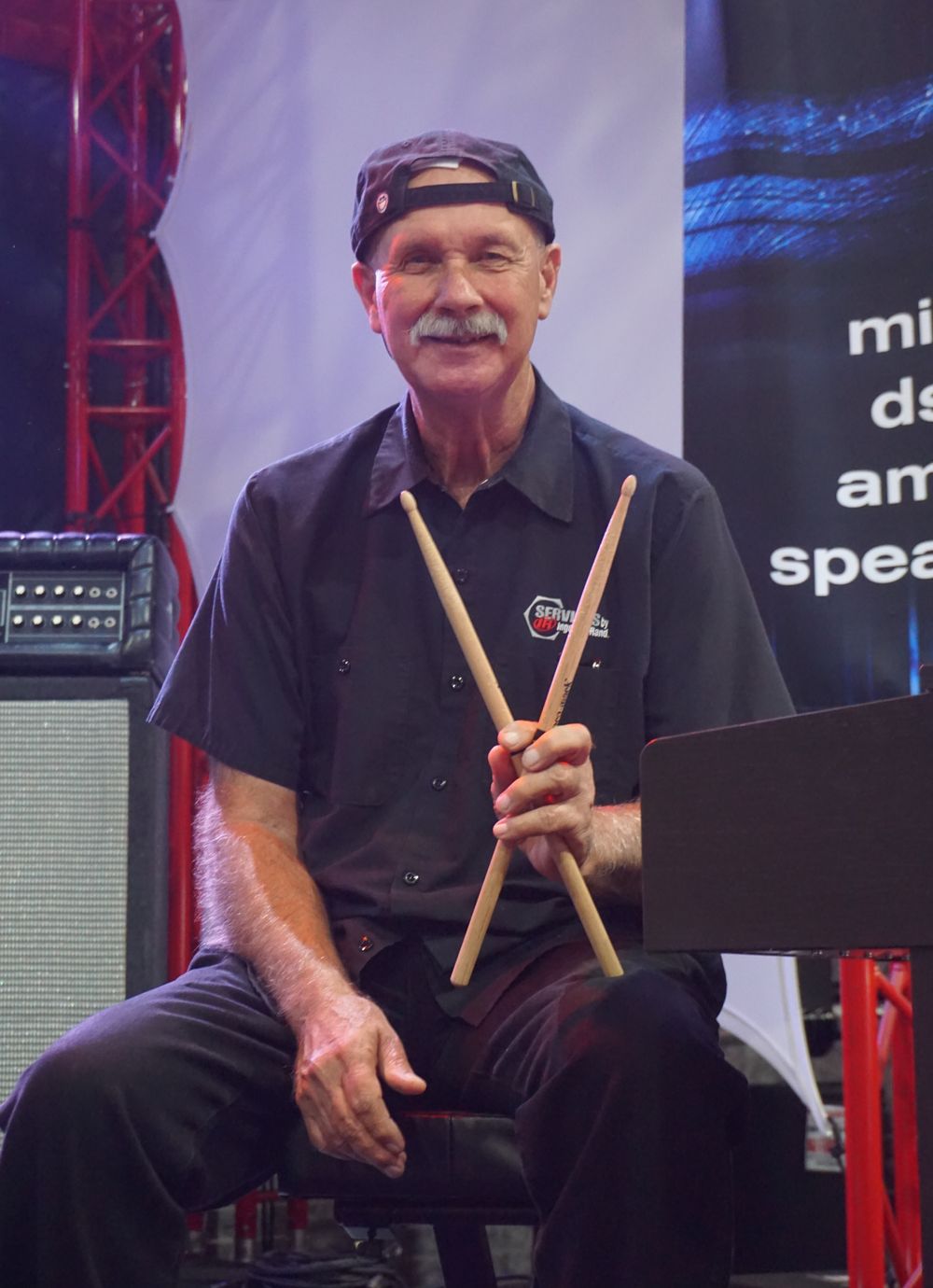 Gary Zabadal
Percussion, vocals
Gary, a former national touring musician, started playing drums at the age of 14 in Binghamton, NY and played with various 'garage' bands for several years as he developed his percussive chops.
In 1970-71, he toured for 1 1/2 years with the '50's rhythm and blues group The Platters. Following the tour, he returned to New York where he played with several commercial rock and roll bands and recorded jingles and advertising commercials for local merchants.
After moving to Nashville in 1990, he played with rock party band Midnight Ride and subbed for various drummers for Dean Hall and the Loose Eels Blues Band. He also played in The Sinners blues band, performing blues with an edge.
Gary was nominated for blues drummer of the year four years in a row and represented the Music City Blues Society at the International Blues Challenge in Memphis in 2005.
In 2014, he joined the Mystery Cowboys Band for several years and co-hosted several blues jams at various Nashville venues throughout 2017-18. He joined The Spyders in late 2018 and continues holding down the groove with bassist Lynn Heisey.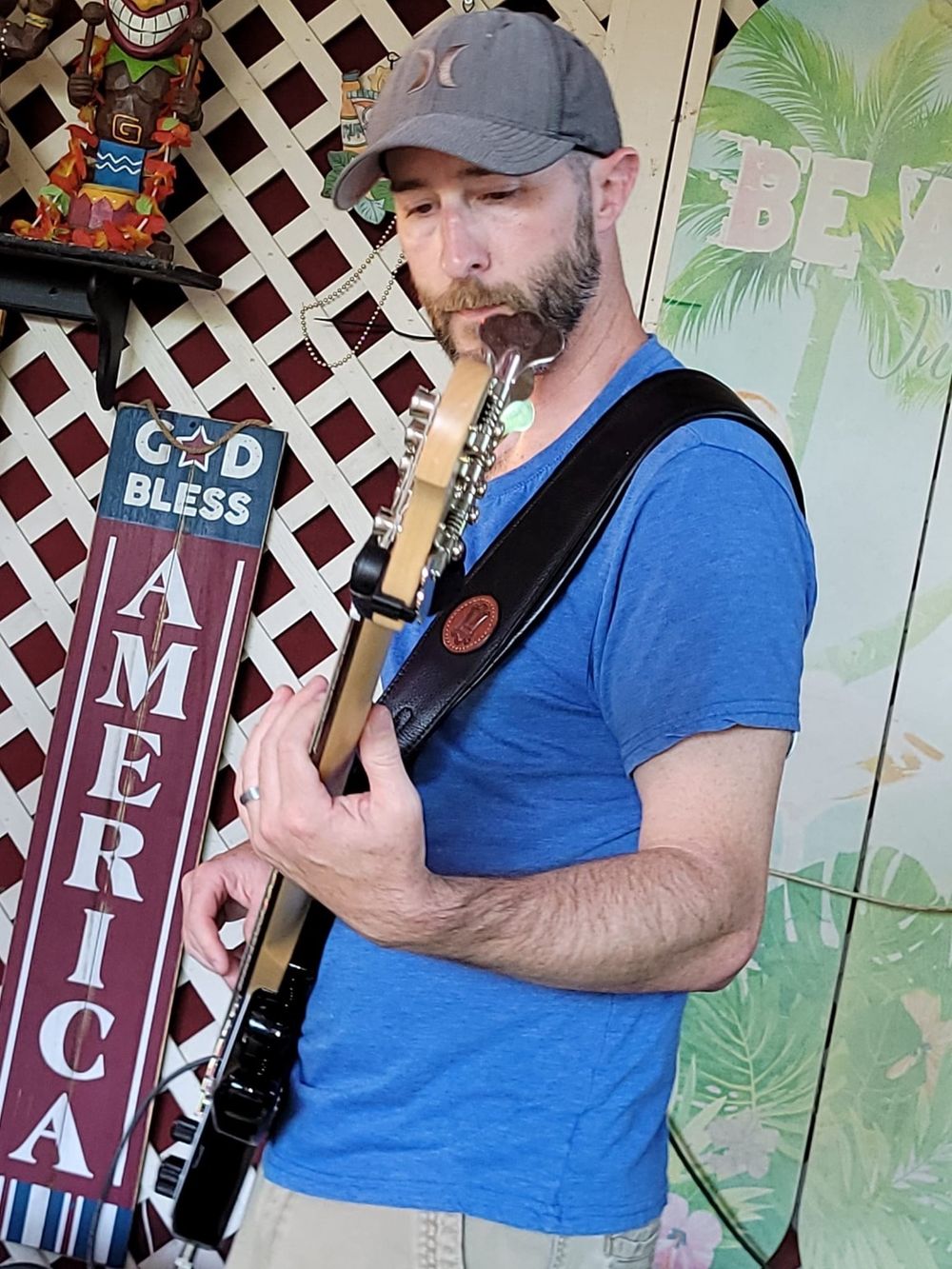 Brandon Sprinkles
Bass, vocals
Brandon began picking up the bass guitar in the early 2000's after joining the Nashville based rock band Sage. At first the bass was just a tool purchased merely for songwriting and recording. Brandon's focus was primarily on other roles in the band which evolved from drummer to guitarist.

Around 2012, after the departure of Sage, the need for a bassist presented itself in a local church. Brandon took ownership of the position and developed an appreciation and love for the instrument like never before. He also got involved with a local country and folk artists, Honeyrun, and has done a handful of shows throughout Tennessee and Arkansas.

A few years later through a mutual friend Brandon has joined up with the Spyders and continues to hold down the low end.

Favorite Artists/Bands: Nirvana, Green Day, Foo Fighters, Alabama, Blink 182, Zac Brown Band, HIM, Dave Matthews Band, John Mayer, Hilllsong United, Incubus, Paramore, Korn, Jimmy Eat World, Eminem, Weezer, Twenty One Pilots, New Found Glory, Mandolin Orange, MXPX, Saves the Day, Seether, Staind, Sublime, to name a few.

Favorite Instrument: EB Music Man

Why He Plays Music: "So many reasons...It's like a therapy session, it's an artistic expression, it speaks a universal language, to bring hope, joy, peace and comfort to myself and others."